For many years, our friend Eric Schiller was one of Chicago's strongest masters and instructors; he now lives in Moss Beach, California.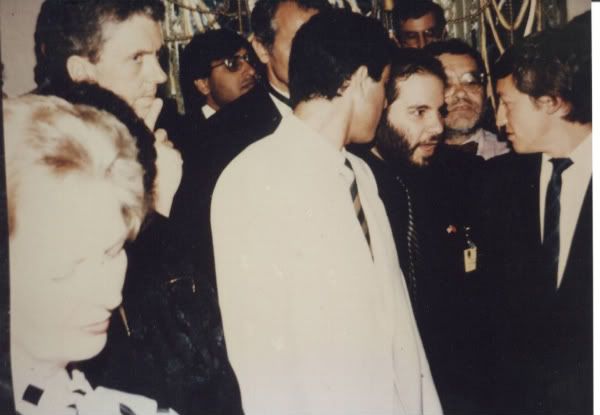 1986 World Championship
Foreground left: PM Margaret Thatcher; Kasparov (head turned), Schiller (beard), Karpov
Eric organized the 1983 World Youth Team Championship at the University of Chicago, he's the author of more than one hundred (!) chess books, he was lord of the press room for two of the five Karpov-Kasparov matches, he was the chief arbiter for the Kasparov-Kramnik match, he edited the
Illinois Chess Bulletin
in the late 1980s, and (not least) he's the
chess champion of Daily Kos
. En passant, Eric also holds a Ph.D. in linguistics and is a
Phish groupie
.
Michael Aigner informs us that Eric is in a San Mateo hospital recovering from a serious infection that led to the amputation of one foot.
Eric, all of your Chicago Schachfreunde wish you a speedy recovery!