Sad news. Sevan Muradian writes:
For those of you that may have known him, I just learned that Dr. Ricardo Szmetan, originally from Barbados, passed away on December 31, 2010.

Ricardo had a PhD in Latin American Studies and recently completed a MS in Library Sciences at University of Illinois Champaign-Urbana. He was also a FIDE Master.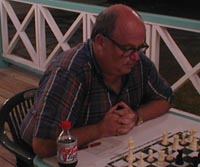 While Szmetan was indeed the
2002 national champion of Barbados
, he was of Argentinian descent (not sure where he was born--were his parents part of the Central European Jewish diaspora?). His Midwest tournament victories included the
2008 Greater Peoria Open
and the 2007
David Mote Memorial
, and he played in numerous master-level events in Chicago over the decades.