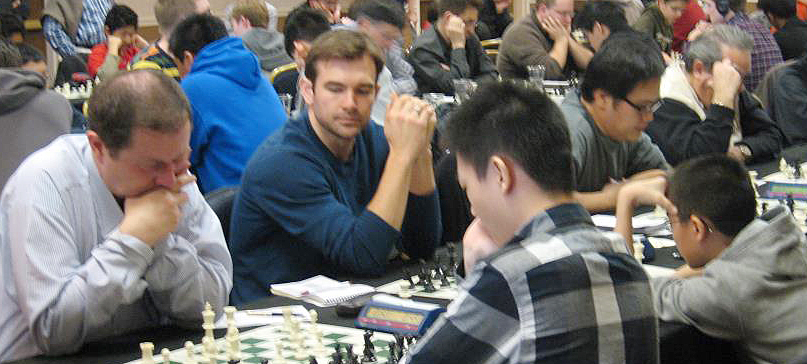 It's tax season, so this post is going to be far shorter than it deserves to be.
171 players on 39 teams had a lot of fun this weekend! GM Alexander Shabalov played for a team from Pittsburgh: GM Dmitry Gurevich (who won Saturday night's Illinois Blitz Championship) was a constant spectator.
GM Dmitry Gurevich
2012 Illinois Blitz Champion
(swiped from Brad Rosen's Facebook page)
Full team results are here.
The event is already rated:
MSA reports here
.
Congratulations to the
Chess X-Men
(NM Mariano Acosta, MN Tenzing Shaw, NM Scott Allsbrook, and Dmitri Sergatskov) for keeping the USAT North title in Chicagoland!
Maret Thorpe was both an assistant TD and the sponsor of two Evanston Chess Club teams:
her report is here
. If you friend the
South Suburban Chess Club of Greater Chicago
, you can see lots of cool event photos! Thanks to TDs and organizers (who I'm not naming only because I'm afraid I'll leave a key person out!) for a very smooth and enjoyable event!