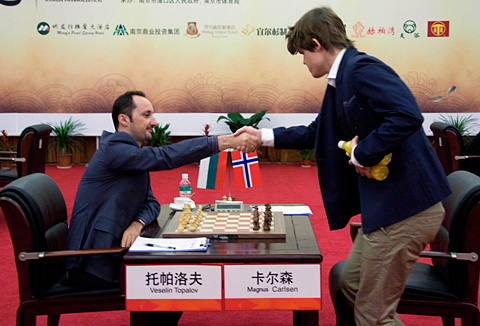 Topalov-Carlsen, Nanjing 2010
(while you were sleeping last night!)
Black to play and win
Express report (and answer) at ChessBase.
(Edit Nov. 1: I had hyperlinked to the diagram of the position after Topalov's 32.Rc3??; you can go to ChessBase to see the diagram. It's been replaced by the above photo: how many bottles of juice can Carlsen drink?)
Just a couple weeks ago, both Magnus Carlsen and Veselin Topalov were having crises of form, and Kramnik, Aronian, and current world champion Anand were making serious runs at the #1 rating spot. (In fact, both Anand & Aronian have been briefly number one on the unofficial but highly respected
live ratings list
.)
Carlsen (+4 in Nanjing) is back in top form, but Topalov (-2) is obviously not.