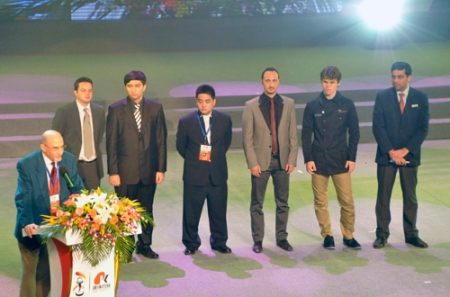 This is the first tournament ever with three 2800's participating! Wang Yue (China's #1) and Gashimov (a young player formerly in the top ten) are logical picks, but I'm surprised that Bacrot was invited instead of someone like Vachier-Lagrave.
Sidebar: Topalov has fallen well below 2800 on the unofficial but widely quoted
live rating list
, but Levon Aronian now joins Anand and Carlsen now above 2800, so there are still three 2800s in the world. Signs of the time: none of the four are Russian, and only one of the four current / recent 2800s (Aronian) was born in the former Soviet Union. But Kramnik is over 2790 with a bullet....
Back to Nanjing: the games begin at something like 2:30 a.m. Chicago time, so
check them with your morning coffee
.
Carlsen wins in round one
and will probably reclaim the live #1 spot later today....