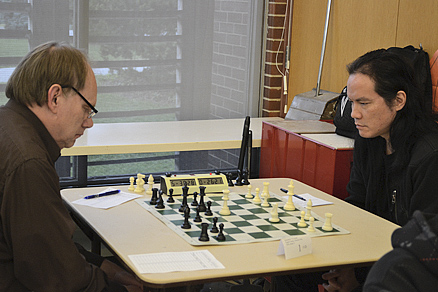 Bill Smythe vs. FM Albert Chow
How many times have these two played each other?
Maret Thorpe writes
:
Evanston Chess Club usually holds open chess for high school age and over on Tuesday evenings. Problem is, this year Christmas Day and New Year's Day both fall on Tuesday. But we have a solution! For two weeks only, Tuesday night chess will migrate to...Wednesday night. That's right, you can come to the Levy Activity Center on Wednesday, December 26 and Wednesday, January 2 and play chess from 6:30-9:00 p.m. As always, sets are supplied and there is no entry fee. On January 8, we'll be back to our usual Tuesday night schedule. Look forward to seeing you all there.
Follow the link for a report on
last month's Tri-Level
.